Posted: 21st September 2018
Mayor's visit
There was a very special visitor to the Sycamore Trust premises on Wednesday when we hosted the Mayor of Barking & Dagenham, Cllr Sanchia Alasia.
The Mayor met Sycamore CEO Chris Gillbanks at the recent Barking & Dagenham Chamber of Commerce awards night, when we won the award for community involvement, and decided to pay us a visit to find out more about the work that we do.
The Honourable Cllr Alasia arrived during one of the regular employability courses, where some of the young adults on our supported employment project, SPACE, meet each week to prepare for work. Wednesday's session was primarily concerned with understanding a wage slip, with particular emphasis on deductions, such as tax and national insurance.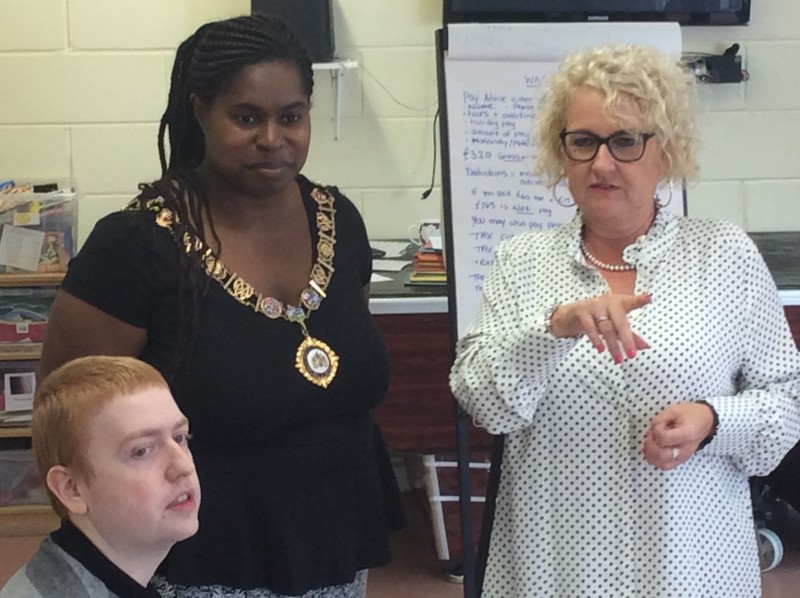 SPACE project manager Nikki Murphy introduced the participants to Cllr Alasia, who was impressed with the progress being made. Following the visit to the job club, the Mayor then chatted to Parenting Pathways project manager Jean Rayner about the vital work being carried out to help adults with learning difficulties with their personal relationships.
Cllr Alasia said "It was a pleasure to visit the Sycamore Trust today and find out more about their work. I was particularly interested in the Parenting Pathways scheme and the SPACE Project, both of which afford invaluable assistance to vulnerable members of the community. These are activities that have a positive impact on people's lives and I was delighted to learn more about the help and support that the Trust provides." The SPACE Project (Supporting Adults with Autism into Continued Employment) has been running for 18 months and is supported by the Gyln Hopkin Charitable Foundation CIO.
The Mayor was accompanied by Dr Elizabeth Negus, chair of the Pennu Charity & disability champion Funmi Akinsanya-Alake