Family Services
Sycamore Trust U.K. offers a range of services designed to help and support families who have children and adults with Autistic Spectrum Disorders and / or Learning Difficulties.
Family Support
Support and information for families affected by all aspects of Autistic Spectrum Disorders and / or Learning Difficulties including:
Information on Autistic Spectrum Disorders.
Information on Learning Difficulties.
Education Issues.
Benefit Issues (including form filling and letter writing).
Regular Autism Parent Support Groups.
Access to practical resources.

e.g. symbols, picture timetables and social stories.

Conferences and Workshops.
Support and advocacy at meetings.
Parent Support Group
The monthly support groups for parents/carers of children and adults with an Autistic Spectrum Disorder is a great way to access information and meet with other parents in an informal and friendly setting.
We regularly have guest speakers who offer a range of information which would be of interest to families. Our staff are also on hand to offer advice and information either in the group setting or where needed on a one-to-one basis.
Parent Support Groups take place every month at the offices in Dagenham and at the Autism Hub in Romford. Dates for 2019/20 are as follows;
B&D Parent Support Group; 27/29 Woodward Rd, Dagenham, RM9 4SJ
Monday 9th September 2019 (all 10am start)
Monday 14th October 2019
Monday 11th November 2019
Monday 9th December 2019
Monday 13th January 2020
Monday 10th February 2020
Monday 9th March 2020
Monday 11th May 2020
Monday 8th June 2020
Monday 13th July 2020
Havering Parent Support Group; Autism Hub, Laurie Walk, Liberty Centre, Romford, RM1
The Havering group meets at the Autism Hub in the Liberty Centre in Romford. It's very easy to find - all you have to do is follow the Calm Lane to our door! The dates are as follows;
Friday 13th September 2019 (all 10.30am start)
Friday 11th October 2019
Friday 8th November 2019
Friday 13th December 2019
Friday 10th January 2020
Friday 14th February 2020
Friday 13th March 2020
Friday 8th May 2020
Friday 12th June 2020
Friday 10th July 2020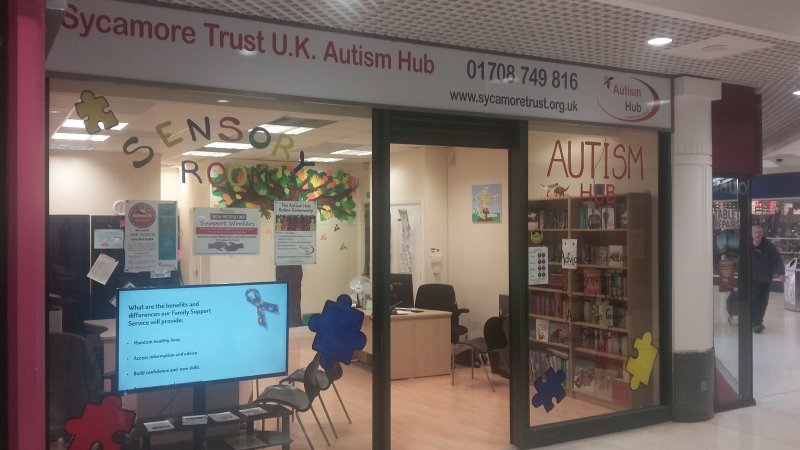 Support Work
What is the Support Work Service?
Our Support Workers are trained to work with people with Autism on a one-to-one basis, enabling them to access social activities, education settings, travel on public transport or simply visit the local shops. Sycamore Trust U.K. can assist with designing personalised programmes according to the wishes and needs of the Client. We support individuals to become active members of their community and to participate, as desired, in events of their choice and also offer brief respite for the rest of the family.
Who is the Support Work Service for?
Adults and young people, from age 8 upwards, who have a diagnosis of Autism Spectrum Disorders.
How much does the service cost?
The service currently costs £14.50 per hour. This can be self-funded or can come from Direct Payments courtesy of your local borough.
How does the service work?
Once a referral has been made, the Project Manager will visit the Client and family / carer to complete an initial assessment. This gives the opportunity to find out about the Client, including their needs, wishes, likes and dislikes, and any other relevant information. This enables us to assess the level of support that the Client requires. At the initial assessment, the Client and family/carer will have the opportunity to discuss what they want to achieve from the Support Work Service. All of this information gathered will be taken into account when matching a Support Worker to the Client and to ensure that the right level of support is put into place. Once a Support Worker has been selected, there will be an introductory visit between the Client, family/carer, Project Manager and Support Worker. Regular visit days and times will then be set. The first one-to-one Support Worker visit is usually carried out in the Clients' home to give time for the Client to get to know the Support Worker and to become comfortable with them. Subsequent visits can take place either in the Clients' home or out in the community, dependant on client or family/carers needs and wishes.
Please note that Sycamore Trust U.K. is not a care agency and do not provide any form of personal care (i.e. bathing, toileting etc.).
What are the benefits of having a Support Worker?
There are many different situations where a Support Worker can be beneficial to a Client. It may be that the Client wants to access work or volunteering, or that they need support when socialising or accessing activities in the community but are unable to do this alone. Having a trusted Support Worker by their side can relieve the anxiety that could be experienced in these situations. This can increase independence, confidence and self-esteem. Clients are always positively encouraged and supported. All clients are individuals and as such the service is tailored to their needs and the outcomes are personalised.
How do I apply?
Referrals can be made from professionals or parents/carers. Contact supportwork@sycamoretrust.org.uk for a referral form, or call the office on 020 8517 9317.
Family Activities
Throughout the year we offer a range of family activities which members will have access to. These have included:
Family Christmas Disco.
Children's Christmas Party.
Family Day Trips.
Members will receive invites when these events are taking place.
Stubbers Week
Each year in August, we take a group of young people to Stubbers Adventure Centre in Essex for a week of outdoor activities, including canoeing, climbing, archery and quad biking. The Stubbers Week is open to Sycamore Trust UK members only. The 2019 week takes place from 19-23rd August. For more information, email parentingpathways@sycamoretrust.org.uk